Saturday night I watched in a satellite channel
Baisers volés
(1968), a movie by the celebrated French cinematographer
François Truffaut
(1932+1984). The film is continuation to the semi-autographic
Les Quatre Cents Coups
(1959) that was for him a sensational break-through as a first class movie director. Here he shows to the world what
auteur theory
is all about.
Jean-Pierre Léaud

and

Claude Jade

in

Baisers volés (1968)
The experience of watching this movie was very powerful but not completely pleasant. The problem for me is Truffaut's ability to take almost total control of my attention and focus using cinematic tools that I do not know so well. I was led along the seemingly simple love story of Antoine Doinel
(Jean-Pierre Léaud)
and Christine Darbon
(Claude Jade)
with unstoppable power - but did not understand exactly how he glued me to the seat. Most movies do this in obvious ways and it is easy to accept that manipulation keeping my freedom of choice. Here the freedom is lost in the stream of images that control me without asking my permission.
Why is that stairwell so important? Filming the opening of the elevator door through a mirror hanging on the wall... Fast change of everything and yet the audience hangs on the story line... That mysterious man who only speaks at the last minute of the movie...
How does he do that? I do not know. But there is obviously painstaking attention to every detail and the uncanny sense of movie magic of a gifted student of Alfred Hitchcock. While the master of suspense controls our deep fears and creates excitement and tension Truffaut brilliantly applies the same cinematic techniques to ordinary human stories.
A good example of this attention to detail is how Truffaut introduces the seductive Fabienne Tabard. Camera work is intensive, her dress, make-up, hair-style, position and smile perfect. The first shots of her are like taken from a fashionable high class portrait studio in Paris looking for best angels to emphasize her charm and no hurry to rush forward with the story. I was almost shocked saying to myself "those French women really are beautiful." Truffaut emphasizes her elegance understanding also the aesthetic value of the person sitting in front of his camera.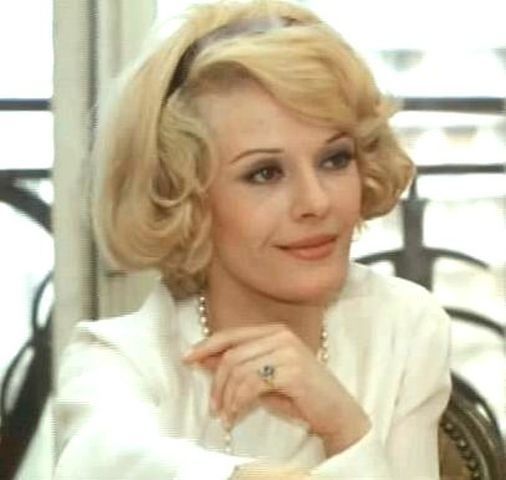 Delphine Seyrig as Fabienne in Baisers volés (1968)
Well, the truth is, of course, that
Delphine Claire Beltiane Seyrig
(1932-1990)
was
an exceptionally beautiful woman. But too often hasty camerawork and cliches minimize the effect of such feminine beauty. Not in this movie. Poor Antoine has no other choice but to run away for his life from this seirene!
Baisers volés is an unforgettable movie about humanity. Strangely concealed under everyday images the powerful direction leaves watchers no chance but to let the movie take them for a ride using cinematic tools in ways that only masters of the art know.