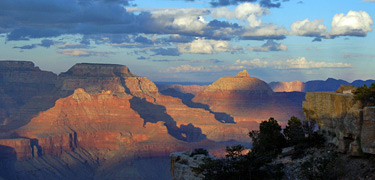 Grand Canyon National Park - Arizona
The Grand Canyon National Park website includes much information also about the G
eologic formations
in this masterpiece of God's creation.
"
The Grand Canyon of the Colorado River is a world-renowned showplace of geology. Geologic studies in the park began with the work of Newberry in 1858, and continue today. The Grand Canyon's excellent display of layered rock is invaluable in unraveling the region's geologic history. Extensive carving of the plateaus allows for the detailed study of the Earth's movements. Processes of stream erosion and vulcanism are also easily seen and studied."
Grand Canyon is well-known to all US school kids and natural part of the school curriculum, it is favourite visiting place for families on vacation and often depicted in the media from movies to TV documentaries. In short, one of those places that everyone knows something about.
As such Grand Canyon is a direct challenge to the American Christians and others who hold the view that God created the world around 4000 before the birth of Christ.
So what to do?
Well, with practical skills and energy and courage the people in the Creation, Evolution and Science Ministries take the bull from its horns and challenge the prevailing teaching about the way Grand Canyon was created and about its age.
The
website
offers guided
Christian Rim and Raft tours
to the torrents of Colorado river. They have built a Grand Canyon observatory where the truth about the world is demonstrated and published numerous papers to show that talk about the ancient age of the canyon is a mistake.
The arguments against scientific dating and for Biblical date are presented in popular way in several articles on
this page
that also takes a generic hit at Darwinism.
The general idea is that waters did actually dig the Grand Canyon as people say but that they were the waters of the Great Flood described in the Book of Genesis.
This is not so new idea as the early 19th century debate on the uniform theories of one the founders of modern Geology, Sir Charles Lyell that first suggested much greater age for the Earth than the Ussher chronology inidcated. These included similar hypotheses of catastrophic floods called Fluvialism. According to these ideas there were several floods shaping the surface of the Earth and the last and biggest one was the Great Flood of the Bible.